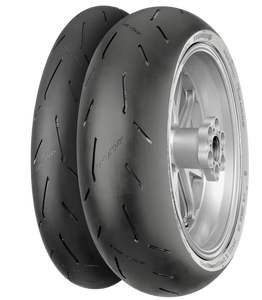 Our fastest Hypersport tire with BlackChili Performance from the race track to the road. PERFORMANCE: our race track tire - also for your favourite road rides
BLACKCHILI HYPERSPORT-COMPOUND: for maximum grip on road and racetrack surfaces
PROFILE: minimal negative tread, no grooves on shoulder to allow maximum grip at lean angles
TRUST: maximum predictability at the limit due to special carcass construction and tread compound (GripLimitFeedback Technology)
RACETRACKS: tested with lowered air pressure for race track use; also suitable for tire warmers.
For even greater performance on the racetrack the ContiRaceAttack 2 Street may be combined with the ContiRaceAttack 2 soft / medium.