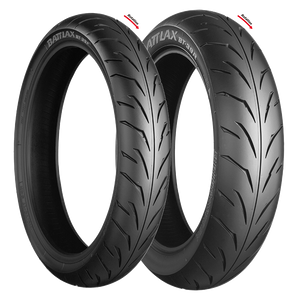 De facto sport bias standard!
With sport and comfort
Both dry and wet grip performances have been drastically improved by using a silica-composite compound.
Slick-like pattern provides high-level dry grip performance. Both dry and wet performances have been achieved through negative control which ensures negative ratio during shallow banking.
Optimized rigidity balances the front and rear tyres, producing balanced high performance, easy use and comfortable ride.
"BT-39" and "BT-39SS" are designed with the same patterns.
Recommended for:
Riders who want to enjoy sport riding.
> BATTLAX Technology