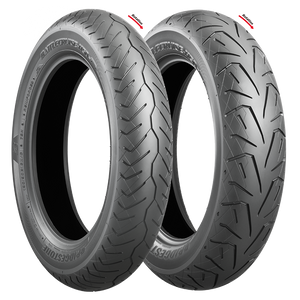 The BATTLECRUISE H50 : The comfort in cruising on American V-Twins, made available with the introduction of a more extensive size line up, broadening the world of American riding.
Cruising in relaxed style on big displacement American cruisers.
This is where the BATTLECRUISE H50 promises to lead you.
"Long Life", "Smooth Handling" and "Comfort Riding" are the key features that H50 offers.
The rear tyre can claim a long life as much as 2.7 times of the EXEDRA MAX.
Its handling capabilities allow even bikes of nearly 300kg to turn smoothly at both low and high speeds, minimizing fall-in characteristics in turns.
By reducing the transmissions of vibration of V-Twins, it provides a comfortable ride and helps to prevent fatigue, even when touring over long distances.
With the BATTLECRUISE H50, designed specially for big-displacement American cruisers, we want you to savour the laid-back cruising of the V-Twin.
Recommended for:
Riders with American OEM cruisers
Riders wanting smooth control of heavier American cruisers
Riders who enjoy long-distance touring, high-speed cruising on cruisers.
> BATTLAX Technology