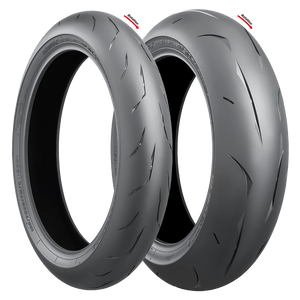 A pedigree created by the world's best riders
Bridgestone's latest premium high-grip radials that achieve excellent dry handling, grip and stability. The least grooved tread pattern adopts 3D groove shape to improve tread rigidity. In order to improve tread rigidity, the slick-like tread pattern adopts 3D grooves.
Chosen by the major motorcycle brands as standard fitment on their high-end models. The RACING STREET RS10 has been recognized for its high performance and its combination of stability and controllability, designed to extract every bit of performance from supersports bikes.
Recommended for:
Riders who wish to enjoy riding over a wide range from the racing track to the winding road.
Riders who want sporty and high kinetic performance on dry roads.
Riders who are seeking higher grade dry performance than S21/ S20EVO.
3LC : Rear tyre only (except "H-range" tyres)
SILICA RICH : Rear tyre only (except "H-range" tyres)
SILICA RICH EX : All "H-range" tyres and 120/70ZR 17M/C
> BATTLAX Technology