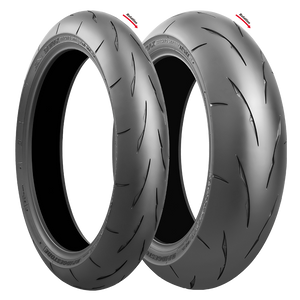 The ultimate high-grip tires for street bikes is here
The Racing Street (RS) is the flagship tyre of BATTLAX street application line up, designed for use on public roads.
The RS11 is the successor to the RS10, which was standard equipment on numerous flagship motorcycles.
It is a version of the highly regarded RACING R11 for track use, which has been tuned for street riding.
RACING STREET RS11 takes riding into a higher level with significant improvements in aspects of sports riding, including grip, cornering stability, handling, and contact feel.
Feel the evolution for yourself, either on winding roads or on the track.
Recommended for:
Riders who wish to enjoy riding over a wide range from the racing track to the winding road.
Riders who want sporty and high kinetic performance on dry roads.
Riders who are seeking higher grade dry performance than S21/ S20EVO.
MS?BELT : Front tyre only
V-MS?BELT : Rear tyre only
SILICA RICH : Front tyre only
CAP & BASE : Rear tyre only
> BATTLAX Technology