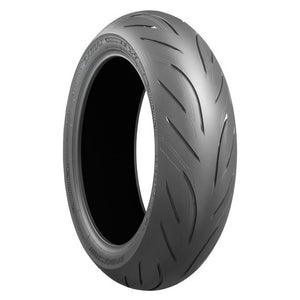 Your favourite corner will look completely different
The S20 EVO loved by so many riders has evolved again. Due to its superior agility, the S21's ease of handling and the contact feel when cornering surpass even that of the S20 EVO.
The rear tire was developed with Bridgestone's ULTIMAT EYE™ technology, while the compound succeeds in generating better traction and while improving abrasion resistance for longer life.
This marks the birth of a new premium sports radial, one that brings out the best in machine performance in pursuit of the joy of riding.
Recommended for:
Riders who mostly enjoy sports riding
Riders of supersports motorcycles who want a combination of performance in the wet and long life
Riders who are thinking of starting riding on the racetrack
3LC : Front and Rear tyre (150/60ZR17 M/C,160/60ZR17 M/C)
5LC : Rear tyre only (except 150/60ZR17 M/C,160/60ZR17 M/C)
HTSPC : Front and Rear tyre only (except 130/70ZR16 M/C)
MS?BELT : Front and Rear tyre only (except 130/70ZR16 M/C)
SILICA RICH : Front tyre only
SILICA RICH EX : Rear tyre only
> BATTLAX Technology