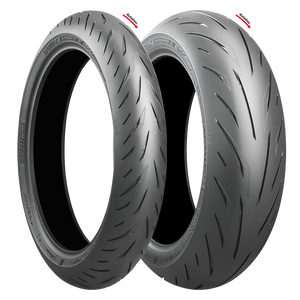 Ultimate sports tire with outstanding DRY Grip
and lightness
Exclusive front & rear pattern design and specially developed compounds will give high levels of grip and quick handling. Astonishing riding feel makes the bike lighter.
Winding roads are even more enjoyable. Also, improvement in WET handling and WET grip will give you a sport riding with one step higher range.
Recommended for:
Riders who mostly enjoy sports riding.
Riders of supersports motorcycles who want a combination of performance in the wet and long life.
Riders who are thinking of starting riding on the racetrack.
3LC : Front and Rear tyre (160/60ZR17 M/C)
5LC : Rear tyre (except 160/60ZR17 M/C)
SILICA RICH : Front tyre only
SILICA RICH EX : Rear tyre only
> BATTLAX Technology