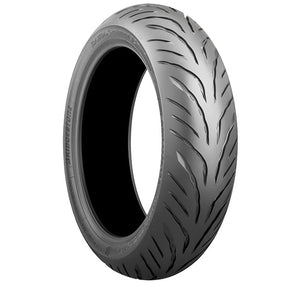 Water-flow Revolution! The first Pulse Groove on BATTLAX brings a new standard of wet riding.
The ideal sports touring radial for all riding conditions.
Bridgestone's state-of-the-art groove design resembles blood pulses.
Improved neutral and linear handling results in ease of control. Naturally, this tyre also provides stable performance on dry roads.
Now you can savour the landscape, the sky and your riding free from weather or road conditions.
The SPORT TOURING T32 makes you want to go out and ride, any time, anywhere.
Recommended for:
Riders who enjoy riding on winding road with a touring motorcycle.
Riders who enjoy riding a super sports bike with touring tires.
Riders who want high performance in wet conditions.
Riders who want to ride with sense of security even when caught in unexpected rainfall.

SILICA RICH : Front Tyre only
SILICA RICH EX : Rear Tyre only
3LC+CAP & BASE : Rear Tyre only
PULSE GROOVE: Rear Tyre only (GT Spec)
MS?BELT : Rear Tyre only (GT Spec)
> BATTLAX Technology