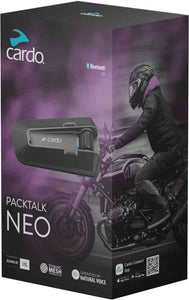 PACKTALK NEO
Packed with Tech, Lighter on Price
IP67 WATERPROOF
No matter what you throw at it, your waterproof PACKTALK NEO will take the beating and keep you connected. Rain, shine, mud, dust, or snow.
SOUND BY JBL
New and powerful 40mm high-definition speakers engineered to perfection by JBL experts, with an improved music processor and three redesigned audio profiles.
NATURAL VOICE
Our improved Natural Voice Operation engine rids you from the need to ever press a button again.
Just say "hey Cardo" and tell it what you want, your PACKTALK NEO will do the rest.
DYNAMIC MESH COMMUNICATION GEN 2
We took the world's best motorcycle intercom, and made it better. For up to 15 riders at a range of up to 1.6km/1mi.
Easy Grouping
Lightning fast, easy and simple. Effortless grouping like never before.
Auto Healing
DMC intercom adapts to your ride, and not the other way around.
Private Chat
For those moments you want to gossip with only one member of the group.
Sound Quality
The best sounding intercom in the World. Motorcyclists chatter has never sounded so good.
PACKTALK NEO SPECS
GENERAL
Compatibility: Universal
Operating Temperature
-20?C to 55?C / -4? F to 131 ? F
IP67 Waterproof
FM Radio
Operating frequencies 76-108 MHz
RDS – Radio Data systems
6 preset station memory
Software Updates
Over-the -air updates
USB cable updates
Device settings
Cardo Connect App
Dimensions
Main unit
Height: 46mm – Length: 84mm Depth: 23mm – Weight: 47g
Speakers
Diameter: 40mm – Depth: 10mm
Connectivity
2 channels for mobile phone and GPS
Bluetooth 5.2
Universal connectivity
TFT connectivity
Intercom
2nd gen DMC intercom
Auto-reconnect, HD Live Bluetooth Intercom
Universal Bluetooth intercom
Group size: up to 15 riders
Rider to Rider Range: up to 1.6km / 1mi
User interface
Natural Voice operation
Multilingual status announcements
Audio
Sound by JBL
40mm JBL speakers
JBL Audio profiles
Automatic Volume Control
Battery
Talk time: 13 hours.
Charging Time: up to 2 hours
Fast charging: 2 hours talk time after 20 min charge.
Standby Time: 10 days
Certificates
CE IC/FCC SIG BT TELEC UKCA
WHAT'S IN THE BOX?
• Packtalk Neo Unit
• 2 Square Vectors
• Speaker Booster Pads
• Cleaning Pads
• Boom Microphone
• 40mm Sound by JBL Speakers
• Wired Microphone
• Clamp with Cradle
• Glue Plate
• 2 Round Velcros