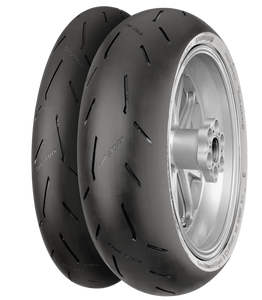 DOT homologated race tire with BlackChili Compound for maximum performance lap after lap. PERFORMANCE: treaded race track tire for amateur racers
BLACKCHILI RACE-COMPOUND: for fast warm-up and consistently high grip - available in both soft and medium compound
CONSTRUCTION: higher stability when braking into and accelerating out of corners, together with constantly good feedback (GripLimitFeedback Technology)
UNCOMPLICATED: simple application: in varying conditions these race tires maintain temperature more consistently
RACETRACKS: tested with lowered air pressure for race track use; tire warmers recommended for track use. Depending on the application, it can be combined with the ContiRaceAttack 2 Street for longer durability needs at Endurance racing.