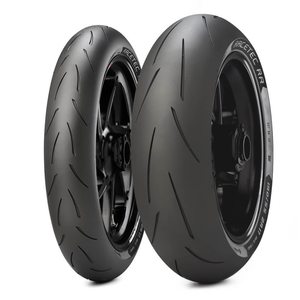 Feel the RRace, feel the RRoad
Developed to win road races, RACETECâ"¢ RR delivers maximum performance. Grip in all conditions.
Road racing courses feature multiple and variable conditions and RACETECâ"¢ RR compound specifications have been developed to cope with all of them.
The compound recipes of RACETECâ"¢ RR blend a selection of polymers and resins with different grades of carbon black to maximise hysteresis - even on slippery surfaces.
RACETEC™ RR fronts conform to the micro-granularity of tarmac delivering more grip and wear resistance, to last longer on severe asphalt; the blend of polymers features. As for rear tyre, choice of version is based on asphalt friction coefficient (high severity/friction and low severity/friction, depending on the circuit or road race) and asphalt temperature (with the threshold being around 25°/30°degree).
The dual-compound cap and base scheme of RACETECâ"¢ RR rears feature a highly conductive center strip, which supports the shoulder compound from underneath and warms it up during long straights by redistributing the heat generated to the shoulders, maintaining them in the operative temperature and ensuring grip when going into lean.