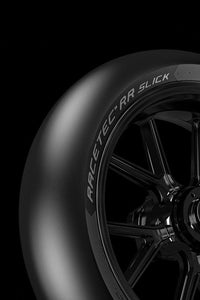 What is METZELER RACETECâ"¢ RR Slick?
It is the 1st METZELER slick product line for the professional NHS racing segment.
It is the latest evolution of slick tyres within the RACETECâ"¢ product family, and it is specifically dedicated to professional road racing and on-track racing.
It is continuously developed and tested both on the most relevant road racing tracks and race circuits, to ensure a proper newness of performances year over year for the disciplines concerned and the competitive scenario.
METZELER RACETECâ"¢ RR Slick main performances include remarkable grip, ease of handling and riding precision, and consistency to withstand the extreme intensity pertaining to top level motorcycle racing.
The versions available fulfill a valuable versatility to different operating condition, tarmacs, temperatures and motorcycle types.
Product role and positioning
Consumer Target
RACETECâ"¢ RR Slick is dedicated to professional riders competing in road races and on-track races where regulations allow the use of NHS tyres and the extra-performances made available by a slick product raise the riding level reached by riders and their machines.