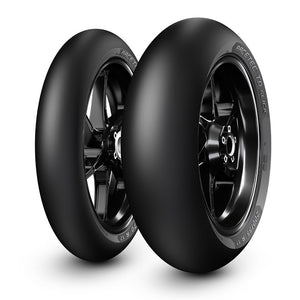 Leave no track unraced
Plug&Play racing fun: make your bike ready for the racetrack with genuine sizes and set-up Genuine sizes
Genuine rear sizes allow a smoother transition from OE tyres geometries to professional racing tyres, and helps the rider skip some of the setup variables a professional racer is required to manage.
Performing since the first corner
RACETECâ"¢ TD SLICK features extremely quick warm-up, and allows riders to approach a track without concerns about thermal issues into the first corner.
Single Ply, pure radial structure
The most the tyre structure is similar to the OE one, the most is easy to find the correct bike set-up to maximise your track day experience. Reusable along several sessions
Great performance consistency
Uniform thermal and mechanical behaviour of RACETECâ"¢ TD SLICK reduces significantly the thermal decay, allowing RACETECâ"¢ TD SLICK to retain its chemical properties through various laps and thermic cycles.
Abrasion and cold tearing resistance
The wide contact patch on full throttle corner exits, the quick warm-up and the effectiveness at wide range of temperature let the RACETECâ"¢ TD SLICK tread compound to operate within the correct working range avoiding cold tearing or other uneven wear phenomena. Reversible rear tyre
Symmetric rear structure
RACETECâ"¢ TD SLICK rear sizes feature a symmetric structure and seamless construction layers avoiding the junctions, which are sensitive to the stress direction.
Exploit the last patch of rubber
RACETECâ"¢ TD SLICK rear is fully reversible, offering the rider the chance to fully use the tyre, when riding at tracks featuring a predominant leaning side, which exploit just one side of the tyre