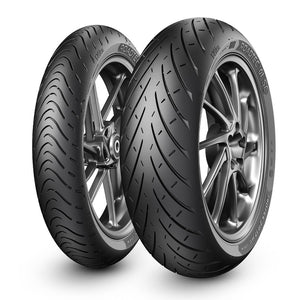 The sporty side of touring
ROADTECâ"¢ 01 SE is METZELER evolution in the Sport Touring segment that enhances handling and grip for supersport and naked motorcycles preserving mileage and wet performances. Grip on every surface, extra grip in full lean
Even starting from the award-winner ROADTEC™ 01, the tread pattern design of ROADTEC™ 01 SE features a higher land/sea ratio on tyre's shoulders both on the front and the rear, which grants enhanced sportiveness and a muscular presence dedicated to the sporty share of sport tourers.
As a matter of fact, the centre section of ROADTECâ"¢ 01 SE matches the land/sea ratio of ROADTECâ"¢ 01 reaching the value of 82% in order to benefit from advanced water drainage technologies developed for the ROADTECâ"¢ 01. Mileage and performance consistency
ROADTECâ"¢ 01 SE preserves the outstanding mileage of ROADTECâ"¢ 01.
The front central footprint features a great amount of grooves that ensure mechanical grip, water drainage and safety, still lowering the specific compound stress to contain overheating and to enhance duration.
The rear endless centre stripe minimizes slip to limit compound abrasion. Safety on wet and low friction surfaces
The ROADTECâ"¢ 01 SE inherits its tread design from the multi-awarded ROADTECâ"¢ 01 with large improvements in terms of limit adherence at full lean.
The front tyre features a great amount of transversal grooves that deliver mechanical grip and ensure water drainage is severe wet conditions.
The rear tyre couples both steep and short grooves to meet complementary functions: the former improve traction on low friction surfaces; the latter prevent lateral slip and increase in-line stability.