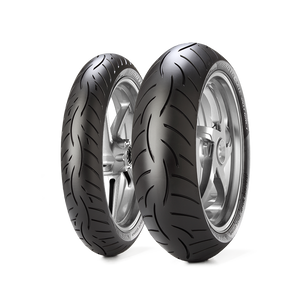 Excellence on wet roads, water won't catch you unprepared
A long time test winner until the breakthrough of ROADTECâ"¢ 01, with a sublime blend of precise and effortless handling. ROADTECâ"¢ Z8 INTERACTâ"¢ ensures peace of mind in the hardest situations, in the cold or wet, providing ideal handling for true riding pleasure.
Riding easiness, comfort, predictability, easy turn in, progressivity in lean, are provided by the interaction of sport touring profiles with the Greek ? tread pattern and the patented Interactâ"¢ technology. Best performance till the last mile, adaptability to different conditions and comfort during long ride, agility in maneuvers even with worn tyre are provided by a unique combination of high silica compound with the Interactâ"¢ technology.

High silica componds are known for their longevity and mechanical resistance to abrasion but our patented mixing process is able to further boost this characteristic by increasing its dispersion inside the polimeric matrix and achieving an incomparable level of homogeneosity.
This sofisticated compound is then coupled with a high tension 0° steel belt in the center portion of the tyre that provides a firm support, reduces compound movement and prevents overheating, contributing to reduce the wear of the tyre and hence increase the mileage. Grip on all kind of asphalt
ROADTECâ"¢ Z8 INTERACTâ"¢ connects you to the road, especially in the wet.
It always ensures the best stability and allows you to ride with maximum confidence and safety feeling thanks to the groove layout of the tread pattern, inspired by Greek ? shape and engineered to enhance water drainage in the hardest conditions.