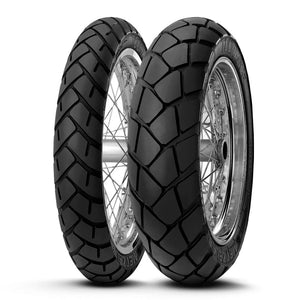 Dual purpose tyre developed and tuned for the big, modern street oriented Enduro motorcycles. Durability
A thick groove depth combined with balanced carbon black and silica compound have been used to guarantee a high level of mileage and durability together with great grip in both wet and dry conditions.
Thanks to its highly efficient mixing technology, Metzeler is able to combine together silica, carbon black and the latest generation of resins and reinforcement agents to reach the state of the art in compounding. Stability in all conditions
TOURANCE™ has a 0° belted structure on radial rear sizes, associated with a lightweight carcass to promote stability and road holding even at high speeds by distributing forces uniformly to the road and optimizing the contact patch in every condition.
Steel cords are winded with differentiated spacing (MAW patented technology), wider in the crown area for high elasticity and self damping, closer in the mid lean for improved stiffness when cornering.
Thanks to the patented MBS technology all radial front tyres feature a diagonal belt for enhanced cornering and high speed stability. Versatile handling
Metzeler TOURANCEâ"¢ fits perfectly to all the different generations of Enduro Street and dual purpose motorcycles with a strong off-road look.
Metzeler TOURANCEâ"¢ ensures all the performance needed by the street use without losing the specific features of the off-road behavior.
Riders loving curves and riding with all weather conditions can really enjoy every lean in a long journey on road, versatile riders will be surprised by the very good mileage and driving comfort no matter which is the surface. Traction and grip
The tread pattern design of TOURANCEâ"¢ has been developed considering its frequent street application without compromising off-road traction, in line with the needs of Enduro Street and dual purpose motorcycles.
Strong tread blocs in the crown area ensure a compact rubber zone exactly in the contact patch. It allows to directly transmitting full torque from the engine to the road for maximum traction and ensures a homogeneous and light rolling noise.
The shape of the grooves between the blocks of the tread pattern have been designed with variable width to easily dissipate the water from the contact patch and avoid aquaplaning.