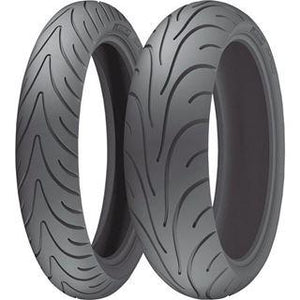 The sport touring tyre which provides longevity, grip, and propulsion thanks to its dual-compound technology derived from motogp competitions. Why is this the right tyre for me?
Superb grip on wet surfaces and quick warm up time
The soft rubber mix on the tyre's edges provides optimal grip on wet surfaces and an extremely fast warm up time.
Longevity and propulsion
MICHELIN 2CT technology allows for an even distribution of wear and tear over the entire tyre, even under extreme stress. Thanks to its stronger rubber in the middle, the MICHELIN Pilot Road 2 provides longevity as well as optimal propulsion and braking.
MICHELIN 2CT dual-compound technology
Derived from Michelin's MotoGP activity, our dual-compound technology means we can use a combination of different rubbers on the tyre's tread surface and thereby achieve exceptional performance levels in specific areas.