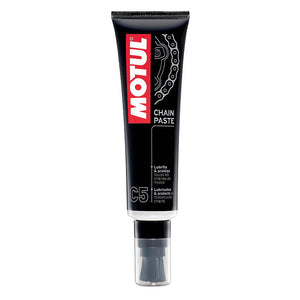 MOTUL C5 CHAIN PASTE 150ML - Motul Chain Paste is a white lubricating paste with a brush applicator tip, specially formulated to lubricate all road motorcycle and kart chains of the standard type or O-Ring, X-Ring, or Z-Ring.
Clean the chain well with Motul Chain Clean, then apply the paste taking care to spread it evenly over all of it using the brush applicator tip. A little quantity suffices to lubricate all the chain. Do not apply too thick a layer; spread evenly to achieve an approximately uniform 0,1 mm protective film. Motul Chain Paste adheres well to the chain, which avoids fling-off at high speed, offering low rolling resistance for more power. The product increases chain durability thanks to its excellent anti-wear properties, reducing friction, being resistant to water and salt, and protecting against rust. Practical, economical, and non-flammable, the compact Motul Chain Paste tube can be stored without risk under a motorcycle saddle. A 150 ml tube does about ten applications.
Reduces rolling friction and loss of power.
Improves transmission performance and increases chain service life.
Retains its lubricant properties at very high temperatures.
Water, salt and rust resistant, preventing corrosion.
Protects O-rings, X-rings and Z-rings.
Contains a solvent to eliminate old residue and to penetrate into the links.
Compatible with all types of chain.
Practical, cost effective, not cumbersome and non-flammable.
Easy to store under the seat of the bike.
One 150ml tube allows about 10 applications.
The chain must be cleaned with Motul Chain Clean prior to the use of Motul Chain Paste.
Apply the paste and spread it on the whole length of the chain using the brush tip applicator.
A small quantity of paste is enough to lubricate all the chain. Do not apply a thick layer of paste.
Spread the paste on the whole chain and especially the inner parts until there is a thin and homogenous layer.
Motul Chain Paste adheres completely after a few minutes.