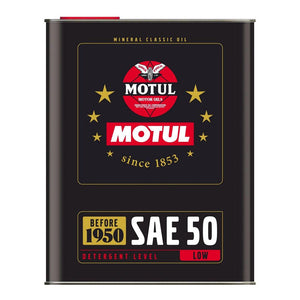 MOTUL CLASSIC SAE50 4 STROKE OIL - 2 LITRE - MONOGRADE MINERAL OIL
Motul SAE 50 is a last generation oil specially designed for old technology engines.
Mineral monograde lubricant with very low detergent level for complete compatibility with paper, felt and fabric gaskets.
Small detergent level avoids soot and deposits finding their way into the lubrication circuit.
Complete compatibility with nonferrous metals such as brass, bronze, copper.
Reinforced adherence for easier start even after a long period of immobilization.
Can be used as a break-in oil if drain interval is shortened.