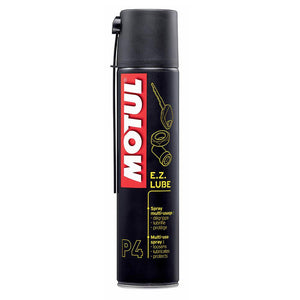 MOTUL P4 E.Z. LUBE MULTI PROTECT - Motul EZ Lube is a multi-function lubricant which unblocks, lubricates and leaves a protective film.
Motul EZ Lube lubricates all mechanisms; brake levers, cables, pins and rods; clutches; shock absorbers; rubber seals that have become dried out; and it unblocks oxidised mechanical systems (nuts, locks, etc.). The product clears water and humidity from electrical circuits, spark plugs and starters. Particularly recommended for application following high-pressure steam washing of motorcycles, Motul EZ Lube protects against corrosion by leaving a protective film on the engine, exhaust, cycle part and other unprotected metallic parts.
Shake well before use.
Use the pipette for accurate lubrication.
Use only the diffuser to spray on large surfaces : for finishing use a soft rag.
Flammable gas container : Do not spray near naked flame or source of heat.