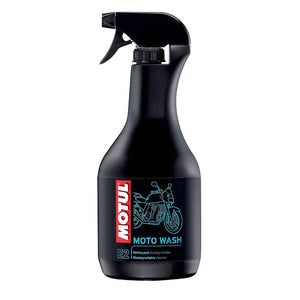 MOTUL E2 MOTO WASH - 1 LITRE - Powerful biodegradable cleaner & degreaser for the entire motorcycle
All surfaces: Plastic, synthetic fabrics, paintwork, varnish, metal.
Efficiently removes all traces of grease, dust, soil, mosquitoes, brake pad residues, etc
Dries evenly.
Leaves a dry anti-corrosion film.
Protects paintwork and varnish.
Biodegradable: MOTUL MOTOWASH is environment friendly. Biodegradable in 23 days at 99% (inherent biodegradability and ultimate biodegradability) according to OCDE 302B method.
Spray generously all over the whole motorcycle using the "wide jet" position on the gun.
Allow to work for a few minutes.
Rinse with water, jet, or steam pressure.
For very dirty parts, repeat the operation using the position "directed jet" on the gun and rub with a sponge or a rag.
Use a soft cloth to obtain a perfect finish.