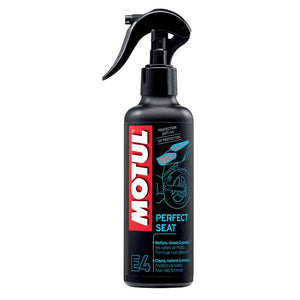 MOTUL E4 PERFECT SEAT 250ML - Motul Perfect Seat is a cleaner and restorer for the vinyl saddles of motorcycles, scooters, quadbikes, snowmobiles, etc.
Motul Perfect Seat's active agent removes even the most ingrained dirt and dust, with the added benefit of an anti-static/anti-dust effect and affording anti-UV protection preventing the saddle from fading. The product restores lustre, revives colours and leaves a long-lasting protective film on the saddle, while offering a silica-free and solvent-free formula. Pleasantly orange-scented, Motul Perfect Seat does not slide or damage the saddle and does not leave any greasy film. Not suitable for leather saddles.
Spray the product on the saddle, while avoiding direct sunlight. Leave to work for a few moments, then wipe with a soft, non-fluffy cloth.
Removes encrusted dirt and grime.
Brings back the original finish and restores like-new color.
Dries evenly and leaves a protective dry and non-greasy sheen.
Silicon free formula for a non-slip effect on the saddle.
Dust repellant for a long lasting protection.
UV protection to prevent the seat from fading.
Orange perfume.