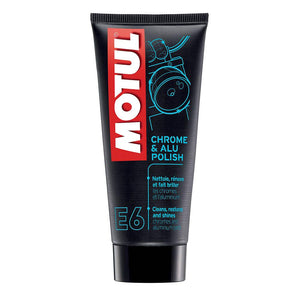 MOTUL E6 CHROME & ALU POLISH - 100ML - MOTUL Chrome & Alu Polish is a cream which cleans, restores, and shines chrome and aluminum parts on the bike.
When chrome and aluminum parts of your bike are tarnished, MOTUL Chrome & Alu Polish restores them and makes them look like new.
Apply a dab of the cream on a soft cloth and spread uniformly over all the work surface. Rub with the cloth in circular movements to achieve a clean and shiny appearance.
Cleans, restores and polishes without damaging the treated surfaces.
Suitable for all kind of chromes and aluminums.
Keep the aspect as new for long.