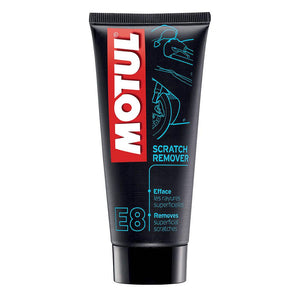 MOTUL E8 SCRATCH REMOVER - 100ML - With its micro-abrasive particles, Motul Scratch Remover removes superficial scratches on painted or varnished motorcycle surfaces such as fairings, or from helmets, etc.
Specific formulation efficient without rubbing.
Dissolves dirt efficiently without leaving streaks.
Restore the gloss on paints and varnishes.
Ready to use product. Do not dilute.
Suitable for all kind of materials commonly found on motorbikes: plastic, paint, metals
Previously clean the scratched areas with Motul Moto Wash.
Apply a dab of cream on a soft cloth and spread uniformly over all the scratches.
Leave to dry for a few minutes, then rub up with the cloth by making circular movements.
Motul Scratch Remover removes fine scratches and restores the gloss of paints and varnishes but should not be used in the sun, on hot surfaces or on mat paints.