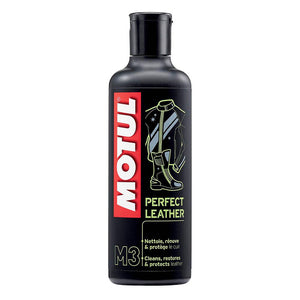 MOTUL M3 PERFECT LEATHER 250ML - Motul Perfect Leather is a cream with a base of olive oil soap, glycerine and turpentine oil. The product cleanses, nourishes, revives and protects all types of leathers.
Shake the bottle well. Use a clean, dry cloth to apply the cream to the work surface. Leave to work a few moments, then shine using circular movements. Motul Perfect Leather can be used on leather jackets, trousers, boots, gloves, saddles, bags, etc.
The product protects against external aggressions (friction, discolouring) and has a waterproofing /rain-repellent effect, prolonging the life of leather. Test beforehand on a non-visible part.
CAUTION: Do not use the product on vinyl.