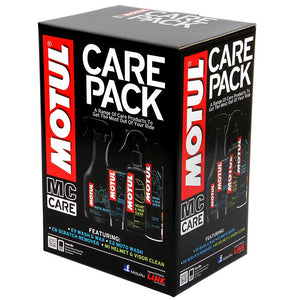 MOTUL MC CARE PACK - ROAD
Motul's Road Care Pack offers great value for money, and comes with an impressive range of products that will assist in keeping street bikes and their riders looking their best. A terrific gift idea for the enthusiast and new rider alike.
Moto Wash- Powerful biodegradable cleaner & degreaser for the entire motorcycle. Efficiently removes all traces of grease, dust, soil, insects, brake pad residues, etc It dries evenly leaving an anti-corrsion film. Protects paintwork and varnish. Biodegradable
Wash & Wax- Wash & Wax Spray is a waterless cleaner that cleans and provides shine to all surfaces. Leaves a protective wax film for extended effectiveness.
Helmet & Visor Clean- Helmet & Visor Clean cleans the outside of the helmet and visor without leaving any marks. Anti-insect effect. Suitable for all helmets and for all visor technologies.
Scratch Remover- Scratch Remover eliminates superficial scratches from any painted or varnished surfaces: motorcycle fairings, helmet, etc.