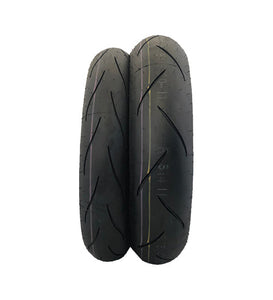 The new R012 Series Race Tyres are the newest development from Shinko and their first foray into competition race tyres.
Built with a race profile and slick shoulder tread for optimised grip at maximum lean angles. The R5 race compound has been developed and tested for Australian conditions by an SSP300 class front runner.
A hypersport tyre designed for spirited road riding, track day use and club racing.
Features include:
Race carcass construction
Slick shoulder tread improves edge grip
Approved for street use (DOT)